OUR UNEQUIVOCAL COMMITMENT
Sustainability
All our actions and decisions as a company express our belief in the preservation of nature and our social responsability to reduce our environmental impact in the world.
RPET plastic: Contrary to popular belief, many studies have shown that glass and canned products have a higher carbon footprint than certain plastic materials. The most eco-friendly plastic? Recycled PET.
Recyclable packaging: 100% of the materials used for packaging are recycled, and nearly all of them are fully recyclable. Cardboard boxing, RPET plastic and bottles & caps, biodegradable labels and ink; everything.
Eco-friendly Facilities: A state-of-art bottling plant that minimizes environmental impact. 100% of our electricity is green and all industrial waste is responsibly recycled.
Water Source Protection: We pledge to protect the water source, its water quality, and to never consume more than 15%
In the process to apply to B Corp, Bonneval wants to be a spark for change that encourages other companies and communities to promote sustainable and eco-friendly practices. We aim to live in harmony with nature.
WHAT IS RPET?
It's recycled plastic! Virgin PET is a food plastic that is widely used for food and berevage packaging. rPET is what you get when you recycle that plastic. By using less raw materials, rPET produces nearly 80% less carbon emissions than virgin PET.
The "r" stands for recycled.
But Glass is Better, isn't it? Not Really.
7X HEAVIER | The weight of a material is important when measuring the carbon footprint. Since glass is about 7 times heavier, it produces significantly more CO2 emissions than rPET plastic when you factor in transportation
IT'S FRAGILE | Glass can shatter and pose a safety risk, which is why it's not allowed in many camping sites, swimming areas, and other outdoor places.

Bonneval's commitment to sustainability
Aiming to be carbon neutral, global water brands like Fiji, Evian, and Nestle Waters, have set goals to switch to 100% rPET in the next 5 to 10 years.
We started that way. 100% rPET since 2021.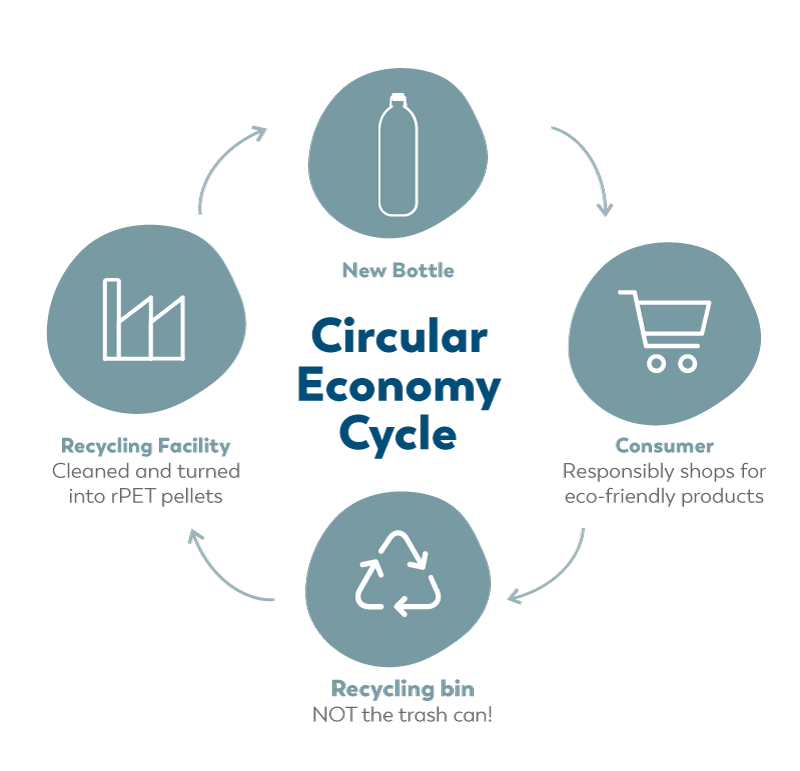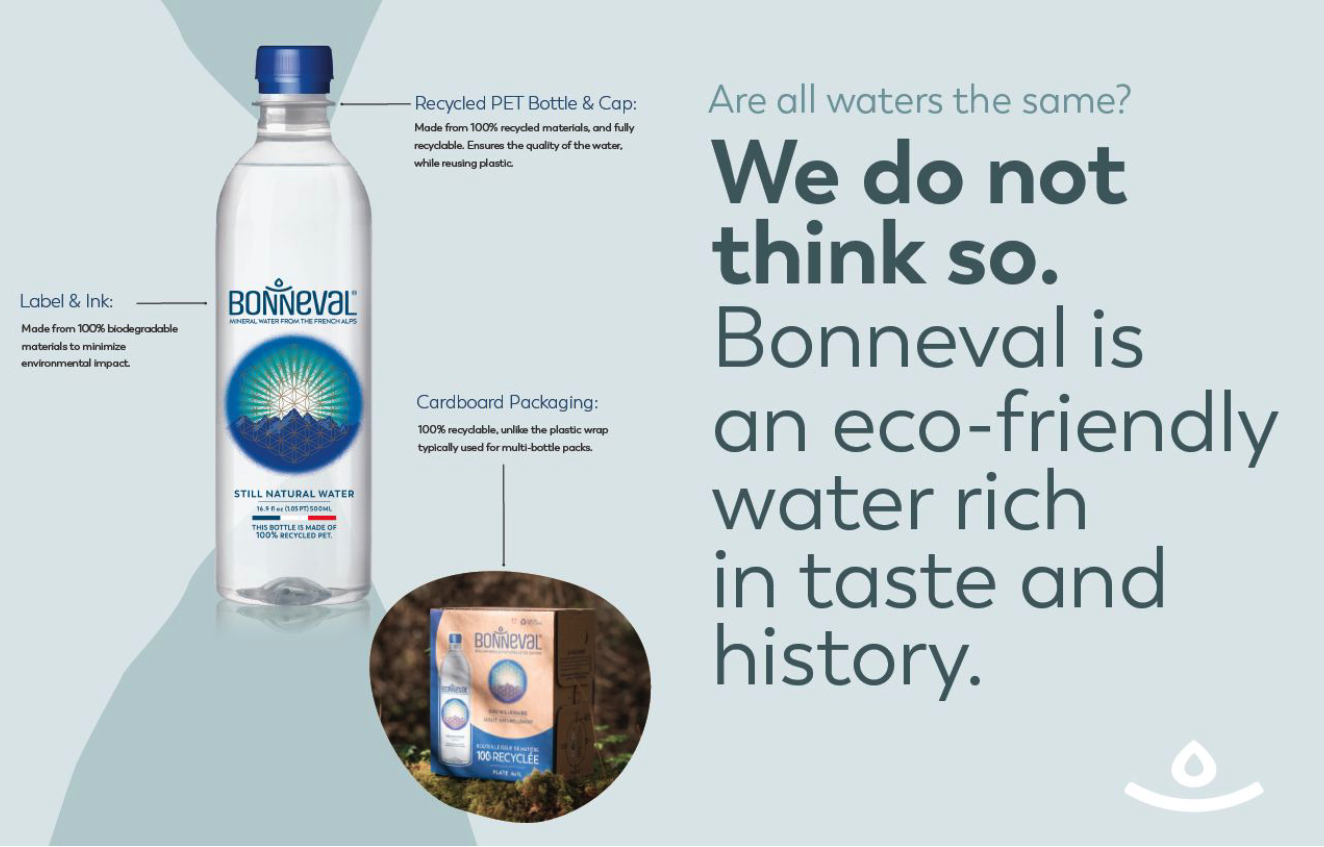 Before emerging from its protected Savoy-valley source, Bonneval mountain spring water has travelled through naturally-slow-filtering Alpine rocks for nearly 2,000 years. Nature takes its time. Nature knows best. That's why we never interfere. There's no drilling or other human intervention in bringing the pure, healthful taste of Bonneval to you.
As a brand – but mostly, as fellow journeyers on this, our one-and-only earth – we're committed to bringing Bonneval natural mineral water to the world, while limiting our environmental impact by following our Three Bonneval Commitments:
COMMITMENT #1 – PROTECT AND PRESERVE BONNEVAL'S PRISTINE SOURCE
As the caretakers of Bonneval natural spring water, we commit to:
Protecting and preserving not only our water's legendary quality and taste, but its very source (its impluvium…basin) – and all the other natural resources in the continuous peak-to-valley cycle of nature that connects Bonneval to the essential.
Harvesting only a limited amount of the natural spring (no more than 20% of capacity) to let Bonneval water continue its journey, naturally.
COMMITMENT #2 – MAKE ENVIRONMENTALLY FRIENDLY INDUSTRIAL CHOICES
Energy conservation is a major concern for our brand. We commit that:
All of our industrial waste materials are fully recycled.
All water used for processing and production is recovered.
100% of our electricity is earth-friendly green energy.
Our transportation fleet uses only clean-burning natural gas.
COMMITMENT #3 – GUARANTEE A VIRTUOUS CIRCLE WITH OUR PACKAGING
As a global brand entrusted with earth's resource, we commit to innovation in:
By choosing cardboard rather than pack-wrap, we are the first mineral water brand with 100% recyclable packaging.

Our 1 L and 50 cl Bonneval water bottles are made from 100% recycled materials (rPET). This recycled PET protects and preserves Bonneval water in the same way that conventional plastic would. The difference? It's already in its second incarnation: it's been used, sorted, collected and transformed for reuse. Interesting: our bottle colors are likely to vary slightly, like all recycled materials that have not been bleached or reprocessed.

The Bonneval bottle cap is 100% recyclable. Oh…and our label? It's made from bio-sourced materials using 100% biodegradable ink.
To discover more about Bonneval's commitments, please visit our FAQ section.